When the COVID-19 pandemic struck about a year ago, the first things the Centers for Disease Control and Prevention recommended for respiratory health were wearing masks, staying six feet from other people and limiting gatherings indoors. According to the experts, viruses like COVID-19 thrive indoors and spread easily from people in close proximity.
Because of the virus' transmissibility indoors, workplaces and schools went remote, concert venues and movie theaters shut their doors and places of worship held religious services via Zoom. However, some college and professional football teams still had fans at their games, the World Series in Texas was played before thousands and 25,000 people watched the Super Bowl at Raymond James Stadium in Tampa just last month.
Why? Because those events where open air, and that makes all the difference.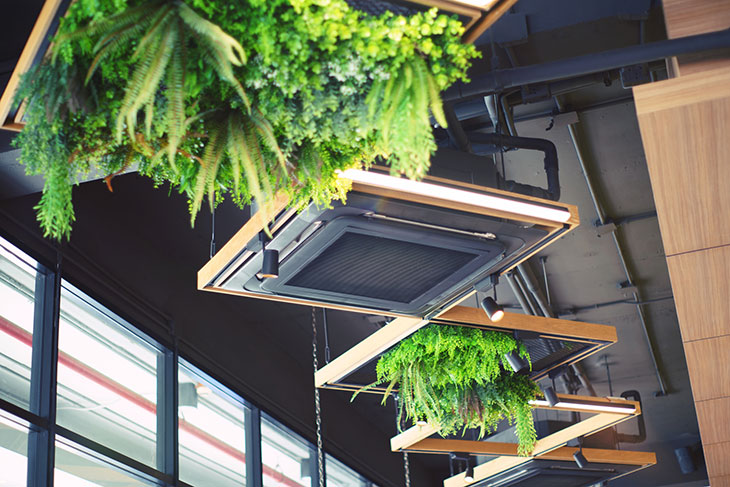 No matter how many HEPA filters, UV lights and bi-polar ionization systems a school or an office building employs, the best long-term approach to fighting the spread of virus is with fresh air and improved ventilation.
We know this going back to the Spanish Flu pandemic of 1919, the deadliest virus outbreak on record, with more than 50 million people killed around the world and around 675,000 deaths in the U.S.—we've had over half a million deaths from COVID-19. It's been estimated that about one-third of the world's population at the time, or around 500 million people, was stricken with the Spanish Flu in some form.
Because it was in the early 20th century, conventional wisdom says little could've stopped the spread of the Spanish Flu, but there's a lot of evidence that contradicts that view.
The Open-Air Method
According to records from an "open-air" hospital in Boston, some patients and staffers weren't subjected to the worst of the Spanish Flu because of a combination of fresh air, sunlight, enhanced hygiene protocols and the wearing of reusable face masks. Hmmm, sound familiar?
The "open-air method" to treat respiratory illness was pioneered in the late 1700s by English physician John Coakley Lettson. Dr. Lettson exposed children suffering from tuberculosis to sea air and sunshine at the Royal Sea Bathing Hospital in Kent, England. Nobody seemed excited by Lettson's enthusiasm for fresh air as a treatment, however, and the next doctor to push the method, George Bodington in the 1830s, was met with fierce opposition.
After Bodington, Florence Nightingale in the 1850s wrote about the importance of sunlight and fresh air in the recovery of hospital patients, but her thoughts and ideas also didn't gain much traction. Some 30 years later, an open-air sanatorium opened in Germany, and by 1908, there were 90 similar facilities in England. Would things have been different during the Spanish Flu or the COVID-19 pandemic If we only took the words and records of the many pioneers who advocated for fresh air more seriously? I guess we'll never know.
Playing the Long Game with Ventilation and Fresh Air
Fast forward to recent history. In my role as the facilities director for a large school district in San Jose, California, I've seen how short-term solutions are used to patch long-term problems.
At each school, a reduction in class sizes to increase in-room ventilation or replacing every old, dusty filter with a new HEPA product looks good on paper and likely appeases some board members who want public perception to show that they're making changes for the good of students. But those changes aren't in the best long-term interest of the schools and they're not in the best interests of the students and staff.
The best way to ensure students and staff on campus are continuing to breathe fresh, clean air—besides opening doors and windows when possible—is to make regular improvements to the schools' HVAC systems. Is it expensive? Sure. But installing a new air filter in 2021 doesn't do much overall when the HVAC system that's pumping the air throughout the school is outdated or totally dysfunctional—or both.
Even if there weren't a pandemic, schools would need to invest in modern HVAC systems. While new systems are expensive, complicated and filled with modern technology, the decision to move away from short-term solutions to long-term problems is simple. It's as important as breathing.
For more information on We Are Fresh Air, call Roger Silveira at (408) 426-0628 or email rsilveira@weneedfreshair.com.